Use Panic Selling To Your Advantage – Highlighting A 14% Yielding Model Portfolio
This article was originally written on February 27th, however, I am posting here for the archives.
Feb. 27, 2020 1:42 PM ET|11 comments |About: Brookfield Property Partners L.P. (BPY), MIC, SPY, XOM, XOP, Includes: BPYPP, GNW, OXY, SLB, SPG, SPG.PJSummary
Panic selling in the broader stock market may have just begun.
Under the surface, panic selling has been ongoing in selected sectors and stocks for an extended period of time.
This presents the historic opportunity.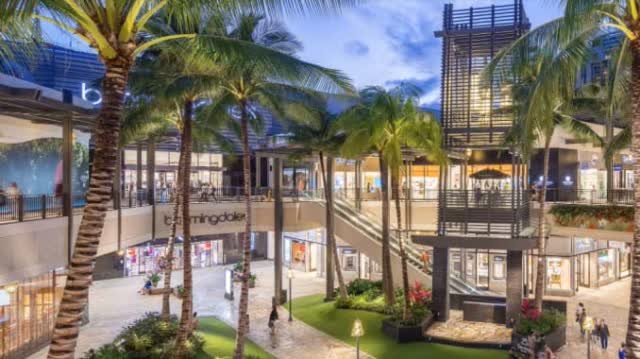 Introduction
Often, I get the question of how I have achieved out-sized returns (and losses) in the past, particularly with an emphasis on what I have been able to do in my very good years, including 2016, 2003, 1999, 2000, 2008, 2010, and most notably 2009, as illustrated by the snapshot of an aggressive Portfolio that I managed personally for myself below, where I took roughly $60,000 in November of 2008 to over $3 million by November of 2009.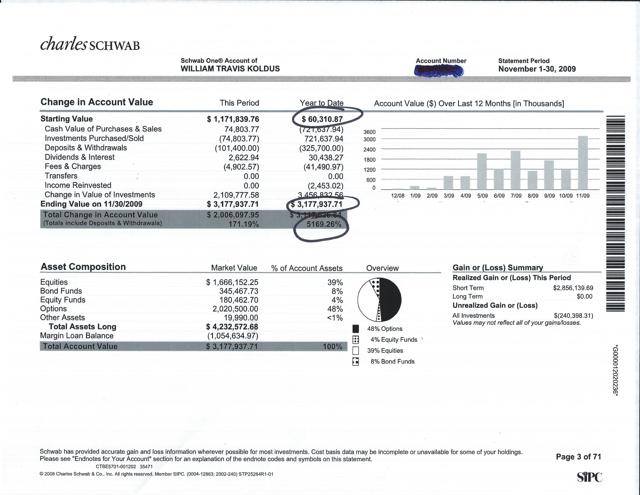 How did I achieve the above returns, over 5000% in a years time (which BTW I may never top, however, knowing this reality, does not stop the pursuit of good years, particularly at inflection points)?
There is a lot of complexity in the answer, including having a variant view, specifically on the broader market as measured by the S&P 500 Index (SPY), using some leverage to express this view, primarily via options, which can be very dangerous tools in inexperienced hands, and the willingness/ability to go against the grain.
Having said this, there is also a lot of simplicity in the answer, specifically in the main underlying driver of the returns, which was buying significantly out-of-favor equities, with one example being my March 2009 and April 2009 purchases of Macquarie Infrastructure (MIC) for roughly $2 a share. Famously, MIC got down to $0.79 (before dividend adjustments…so I was down roughly 60% on even what I thought were bottom ticking purchases…think about that for a minute) and topped $80 per share, again before dividend adjustments, while also reinstating a substantial dividend, that has been roughly $1 per quarter for some time now (this dividend had been suspended in 2009 before being reinstated).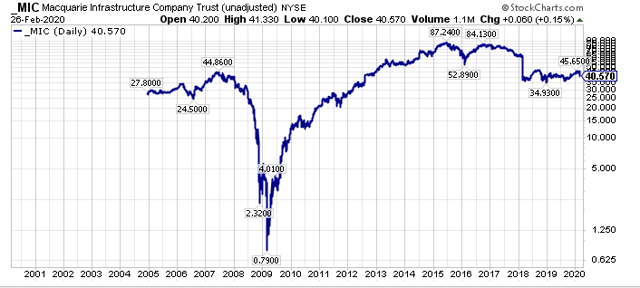 Clearly, with the benefit of hindsight, purchasing MIC at the lows was a generational investment opportunity, however, it was not easy at the time, even though I had done thousands of hours of due diligence on the company, similar to the focused due diligence effort I have done today, on out-of-favor, undervalued securities.
The key was buying into the panic selling, taking advantage of the panic, and I think we are seeing similar levels of opportunity today, just not in the places that most investors want to look.
Buying Into The Panic
In my November 2008 to November 2009 example above, I actually started buying what I felt were the most distressed, highest return potential candidate equities in 2008, in the heart of the panic. Remember, the broader equity market did not bottom until March of 2009, which is a whole other story, however, the important point is that some of the most downtrodden equities made their lows prior to the broader market making its lows.
One specific example, is General Growth Properties, the former second-largest mall REIT in the U.S. behind Simon Property Group (SPG), that was eventually acquired by Brookfield Property Partners (BPY) in 2018.
In November of 2008, I was on a due diligence trip through South Florida, meeting with hedge fund managers, and asset managers, and after a legendary night out for this generally non-party owl author (ask me for details if you want), I awoke in my Miami Beach hotel room, looking out at the ocean, and taking in the panic, eventually buying 120,000 shares of GGP on November 14th, 2018 for this specific account, as my brokerage account statement shows (if you want additional details send me a direct message).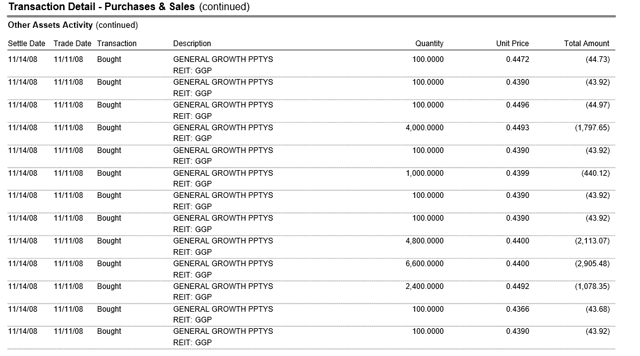 These purchases, in aggregate, totaled $53,593.71, which was not a big dollar total in aggregate, however, the 120,000 shares were a nice stake in what would become the best performing S&P 500 equity in the bull market, at least through March 10th, 2017, as this CBS MarketWatch article on the bull market turning 8 years old chronicled.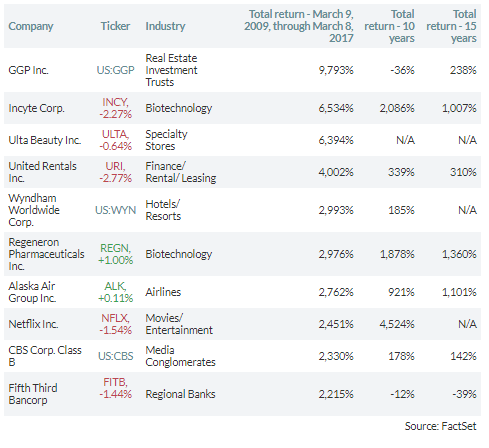 In March of 2018, in the Brookfield Property Partners deal, these shares could be exchanged for $23.50 in cash.
Not a bad return at all, however, the key was to buy into the panic.
Where Is The Panic Today
Even though the S&P 500 Index is on track to be down 7% or more this week, as I write this post, the real panic is not in the broader stock market, at least not yet.
In fact, on a long-term chart, the recent decline is just a blip.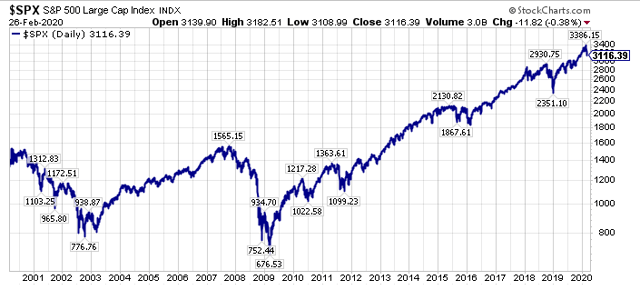 Now, we could be on our way to a broader stock market sell-off, as GMO has previously outlined earlier in 2018.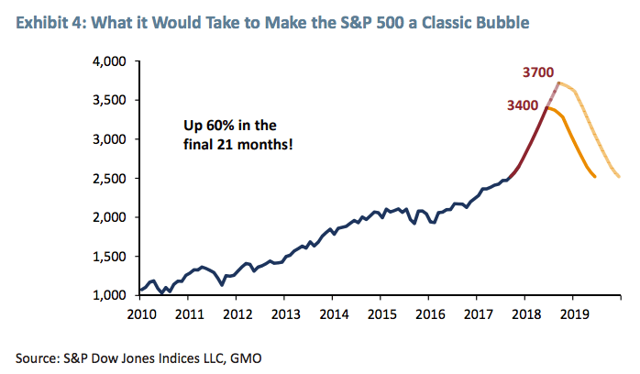 Regarding the path of the broader markets, that is yet to be determined, as we grapple with historically extended valuations, and historical monetary policy accommodation levels.
The real panic right now is in the underbelly of global economic activity, specifically in economically sensitive cyclical stocks, and more specifically, in the most loathed of all stock market sectors today, which is of course, the energy sector.
The SPDR S&P Oil & Gas Exploration & Production ETF (XOP) offers a glimpse of this panic, with XOP down 79.8% from its 2014 high, and down 63.8% from its 2018 high.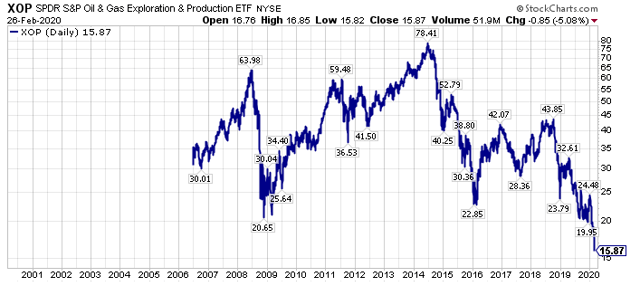 Thus, with the broader U.S. stock market, as measured by SPY, only down roughly 8% from its recent highs, the compare & contrast should be eye opening for most investors.
Building on the narrative, with our deep research dives, we feel there are a number of out-of-favor equities that are down even greater in percentage terms, which offer even greater relative and absolute opportunity.
Importantly, similar to several of the downtrodden equities I purchased in late 2008, and early 2009, including General Growth Properties, and Genworth Financial (GNW), which was also bought well below $1 in November of 2008 before shares rebounded above $18 by early 2010, the most out-of-favor, undervalued equities right now, will probably bottom ahead of the bottom in the broader equity market.
Panic Selling Is Yielding Opportunity
It is no secret that I am targeting what I believe are the most undervalued securities, with the goal of creating a generational wealth opportunity. These securities are generally loathed, unloved, and scorned right now, and many of these equities would make your stomach turn looking at long-term charts, part of the reason there is so much opportunity.
While the best opportunities are generally in smaller capitalization names, there is opportunity in large-caps, including in energy stalwarts like Exxon Mobil (XOM), Occidental Petroleum (OXY), and Schlumberger (SLB), all of which offer attractive yield-oriented income opportunity.
These three securities are part of a "Stuck On Yield" Model Portfolio, which is a $100,000 portfolio, that I created on Friday, February 21st, for a family member.
This Portfolio is yielding over 14% right now, and I have done deep-dive due diligence on all its member components, a majority of which are from the target rich energy sector.
Members of The Contrarian can see this Model Portfolio here, and I have sent out emails of this Portfolio to members of my research services, and I will be making it available this week for all my research members.
Closing Thoughts – Be Ready To Buy Now
Nobody, including me, really knows where the stock, bond, and commodity markets are headed right now with certainty. All we have is probabilities, and ultimately, our valuation analysis. The latter is crucially important, as buying the most undervalued assets, ultimately leads to the strongest returns, so long as you can ascertain the underlying asset quality, and survivability of the corporate entity.
On this note, I am going to make mistakes, so the key is getting a handful of these right, as the gains from the survivors will more than make up for any losses, at least that is my past experience at previous inflection points. Ultimately, valuation matters, and starting valuations levels matter too. Adding to the narrative, with everyone wanting to own quality today, there are many "Have Not" securities that are historically undervalued.
Conversely, a high valuation is a bad starting point, and buying overvalued assets, which certainly describes the S&P 500 Index, which trades at greater EV/EBITDA, Price/Book, and Price/Sales multiples that it did at its peak valuation levels in late 1999/early 2000, is a recipe to achieve poor returns going forward. Adding salt to the wound, the bond market, which offers meager sovereign yields, is also set-up for poor future returns over the longer-term, as historically over 90% of bond returns are correlated with starting yields.
In summary, buy what is cheap, and buy into the panic, as the cheapest valuation equities with the best future return prospects will often rebound ahead of a bottom in the broader equity market.
Specific to my research services, I am offering a 20% discount to membership (I am extending this through March) to "The Contrarian" (past members can also direct message me for a special rate), the lowest price point since the founding members price, where we have a live documented history dating back to late 2015..
Additionally, I am offering a limited time 50% discount for the first 5 new members (I expect these slots, some of which I view as a stepping stone to "The Contrarian", to fill up fast as they have done previously) to a host of research options, including a lower price point. If you subscribe to a premium option (I have had one concierge slot open up after a gentleman I was speaking to last evening held off on taking this slot), I will set-aside time for a personal phone call to get up to speed. To get these offers, go here, and enter coupon code "opportunity" without the quotes.
Reach out with any questions via direct message (I enjoy the dialogue at market inflection points).
Via my research services, or another avenue, please do your due diligence, and take advantage of what I believe is a historic inflection point, which I believe will supersede 2000-2002 in the growth-to-value rotation.
WTK
P.S. Resilience is perhaps the most important ingredient to be successful in life, and in the markets. Keep that in mind right now.
Disclosure: I am/we are long MIC, OXY, SLB, xom and short spy in a long/short portfolio.
Additional disclosure: Every investor's situation is different. Positions can change at any time without warning. Please do your own due diligence and consult with your financial advisor, if you have one, before making any investment decisions. The author is not acting in an investment adviser capacity. The author's opinions expressed herein address only select aspects of potential investment in securities of the companies mentioned and cannot be a substitute for comprehensive investment analysis. The author recommends that potential and existing investors conduct thorough investment research of their own, including detailed review of the companies' SEC filings. Any opinions or estimates constitute the author's best judgment as of the date of publication, and are subject to change without notice.