EQT Corp Up 49.1% Last Week; Inflection Point Is Here
Mar. 17, 2020 8:54 AM ET|About: Antero Resources Corporation (AR), EQT, SPY, UNG, XOMSummary
EQT Corp, the largest dry natural gas producer in the U.S., gained 49.1% last week.
Many natural gas equities had stellar performance weeks, while SPY dropped 9.5%, and historic volatility engulfed the markets.
Looking through the volatility, the inflection point is clearly at hand.
Introduction
There has been historic volatility in the financial markets. That is not hyperbole, as the chart of the $VIX shows below.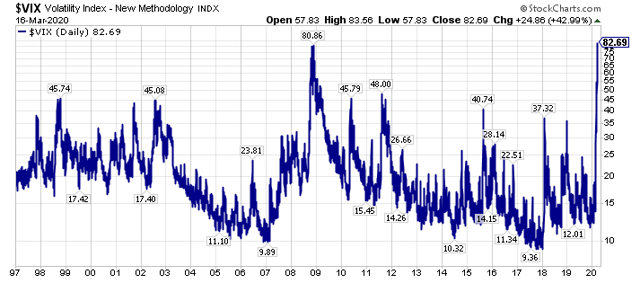 In fact, even though the SPDR S&P 500 ETF (SPY) declined 9.5% last week, we have seen daily price moves, on a regular basis, that exceed that move.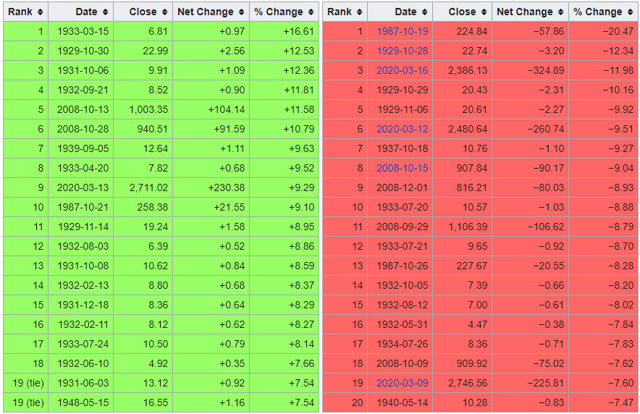 In this swirling sea of turmoil, one sector that I have extremely bullish on stands out.
Specifically natural gas, and more specifically, the historically downtrodden natural gas equities, which have both been contrarian trades and investments even for contrarians.
Dry natural gas prices rose 9.4% last week, the United States Natural Gas Fund (UNG) rose 10.7% last week, and the largest dry natural gas producer in the United States, EQT Corp (EQT), rose 49.1% last week.
Macro Is Turning Sharply To Favor Natural Gas
Anybody that has been reading my work knows that I have been extremely bullish on natural gas prices and natural gas equities.
Why?
In a nutshell, both lower 48 dry natural gas production and liquids production are rolling over, as the charts of my colleague Lothar Grall illustrate.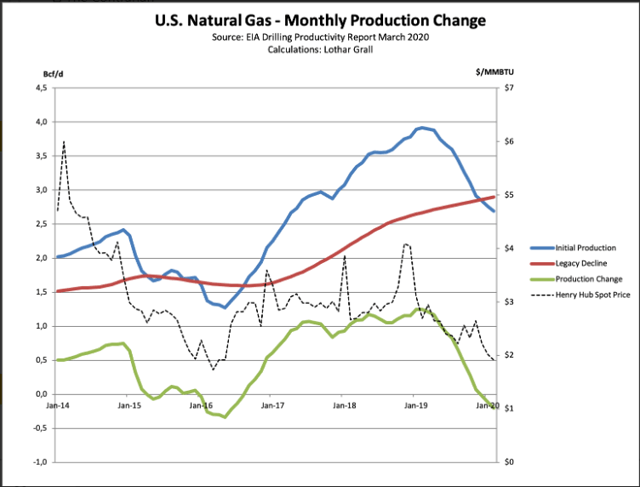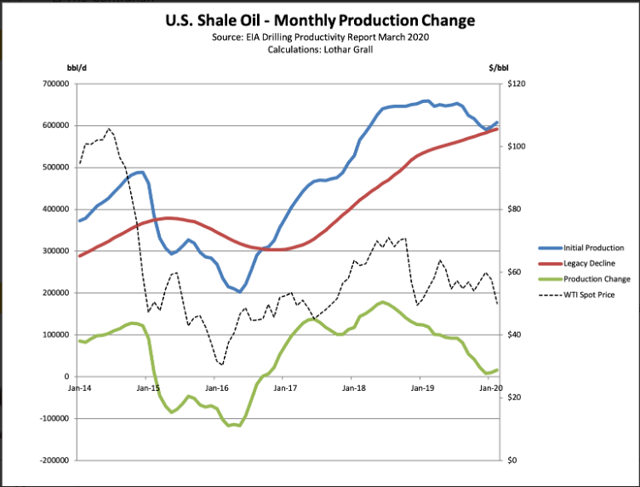 (Source: Lothar Grall, The Contrarian)
Keep in mind, this data is from the EIA's Drilling Productivity Report, and production was already in decline for dry natural gas and rolling over for liquids before COVID-19 became a full blown pandemic, and Russia and Saudi Arabia got into a full scale oil war.
The latter has cratered crude oil prices, and effectively rendered obsolete the primary bearish natural gas thesis, which was that unending associated dry gas production growth would forever impair dry natural gas prices.
Natural Gas Equities Have A Contrarian Surge
Again, last week, with the SPDR S&P 500 Index down 9.5%, the largest natural gas producer in the United States, EQT Corp (EQT), surged higher by 49.1%.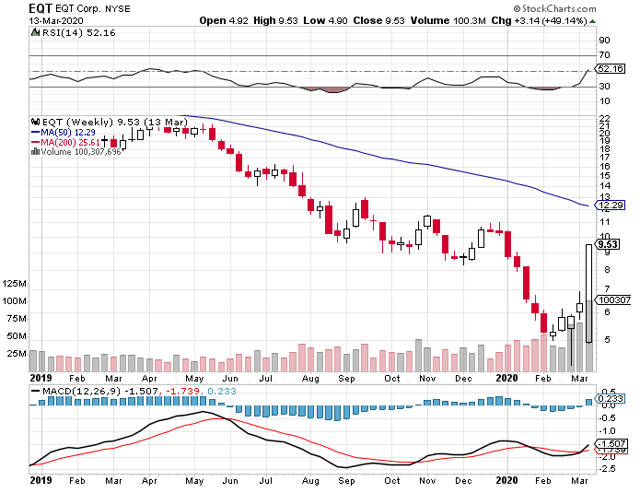 That is a monumental move, in a week of historical market volatility, and adding to the narrative, many of the leading dry natural gas producers had a strong week of relative, and absolute, price performance.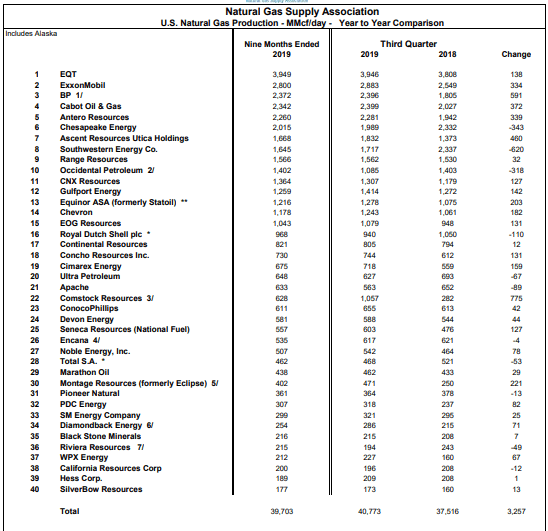 As this narrative begins to flow through to market participants, there is potential for extraordinary gains, perhaps even a generational wealth opportunity, as I wrote about in an article highlighting Antero Resources (AR) recently, in some of the largest dry natural gas producers in the table above.
On this note, much beleaguered Exxon Mobil (XOM), which is widely ridiculed for their XTO energy purchase in 2009, which gave them greater natural gas exposure, could get a material, unexpected (by many market participants) boost from higher dry natural gas prices.
Closing Thoughts – Take Advantage Of What I Think Is A Historic Opportunity
Many always ask me how I had a year like I did from November of 2008 to November of 2009.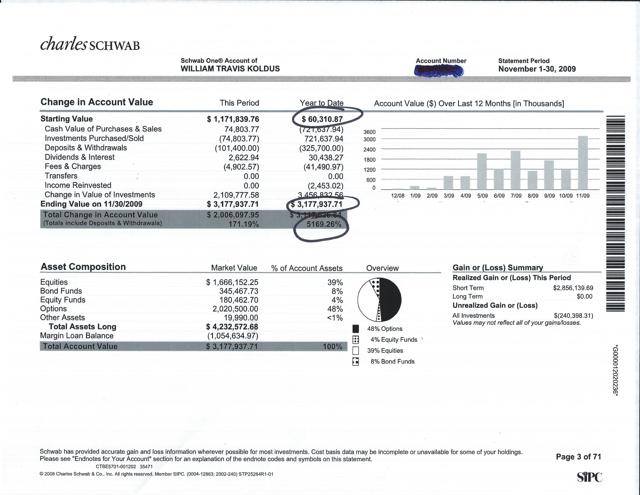 The answer was really simple.
1. Have an accurate bigger picture macroeconomic view.
2. Identify opportunities that are mispriced by the markets.
3. Take advantage of the panic selling.
Fortunately, for market participants today, we have all the ingredients necessary for one of the great contrarian inflection points of all-time.
For members of my research services, I have published several recent pieces quantifying the historical volatility and the opportunity as follows:
Chronicling Another Historic Day In The Market & Putting Together A Buy List
Another Historic Market Day This Week – Chronicling Black Thursday & Looking Forward
Chronicling A Historic Day In The Stock Market & A More Historic Day In The Energy Market
(Note: Members can click on these articles to access. Also, the first article is still being distributed).
Somewhat unbelievably, we have had three historic days in the stock markets in the past six trading sessions, really four historic days counting Friday's big gains, so the volatility is incredible.
Seeing through all of this volatility, there are clear inflection points at hand, and the relative and absolute opportunity right now is as big as I have seen in my 25 year plus personal and professional investment career.
In summary, buy what is cheap, and buy into the panic, as the cheapest valuation equities with the best future return prospects will often rebound ahead of a bottom in the broader equity market.
Specific to my research services, I am offering a 20% discount to membership (I am extending this through March) to "The Contrarian" (past members can also direct message me for a special rate), the lowest price point since the founding members price, where we have a live documented history dating back to late 2015.
Additionally, I am offering a limited time 50% discount for the first 10 new members (I expect these slots, some of which I view as a stepping stone to "The Contrarian", to fill up fast as they have done previously) to a host of research options, including a lower price point. If you subscribe to a premium option (I have had one concierge slot open up), I will set-aside time for a personal phone call to get up to speed. To get these offers, go here, and enter coupon code "opportunity" without the quotes. Either way, once you sign up, I will follow-up with a welcome email within a day.
Reach out with any questions via direct message (I enjoy the dialogue at market inflection points).
Via my research services, or another avenue, please do your due diligence, and take advantage of what I believe is a historic inflection point, which I believe will supersede 2000-2002 in the growth-to-value rotation.
WTK
P.S. Resilience is perhaps the most important ingredient to be successful in life, and in the markets. Keep that in mind right now.
Disclosure: I am/we are long AR, EQT, UNG, XOM, and short SPY in a long/short portfolio.
Additional disclosure: Every investor's situation is different. Positions can change at any time without warning. Please do your own due diligence and consult with your financial advisor, if you have one, before making any investment decisions. The author is not acting in an investment adviser capacity. The author's opinions expressed herein address only select aspects of potential investment in securities of the companies mentioned and cannot be a substitute for comprehensive investment analysis. The author recommends that potential and existing investors conduct thorough investment research of their own, including detailed review of the companies' SEC filings. Any opinions or estimates constitute the author's best judgment as of the date of publication, and are subject to change without notice.