An inflection point that began in 2016 is now accelerating.
2017 lulled most investors and speculators back to sleep in the financial markets, yet change continued under the surface.
Volatility is providing tremendous opportunity, both in the short-term, and on a bigger picture level.
Now may be a good time to take a look at "The Contrarian".
If price is a barrier, I have an answer, actually two answers.
Wow, what a wild few days of price action in the financial markets, specifically in the stock market, in what is shaping up to be a much more volatile year in 2018, than in 2017, as shown in the charts of the S&P 500 Index (SPY) below.
SPY 2018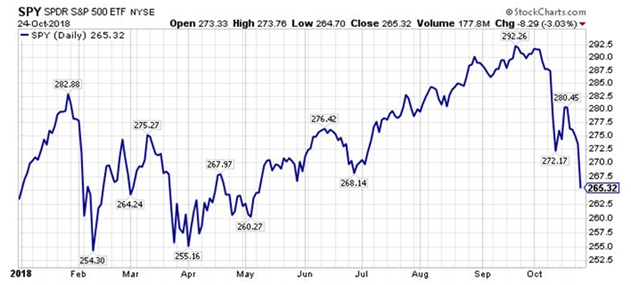 SPY 2017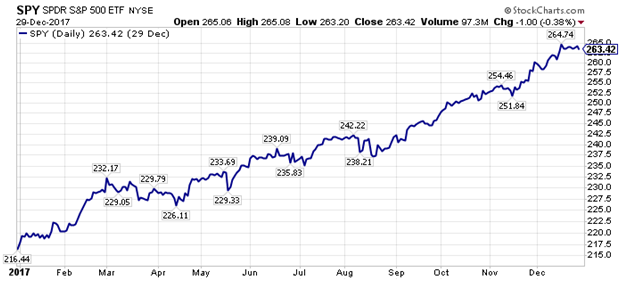 Looking at the charts above, clearly investors would prefer 2017 over 2018, though for me personally, 2017 was very painful, as I was on the other side of some one way trades, and frankly I destroyed capital.
Bigger picture, the price action since 2016 reminds me of the price action from 2006-2008, though I think the ultimate resolution this time will be different that the historic unwind we had from 2007-2009.
During 2008 and 2009, I was able to make a small fortune personally, using volatility as opportunity, and I think that scale of opportunity is present today, specifically in commodity equities, as commodities prices have historically under-performed stocks and bonds, shown in the relative chart below.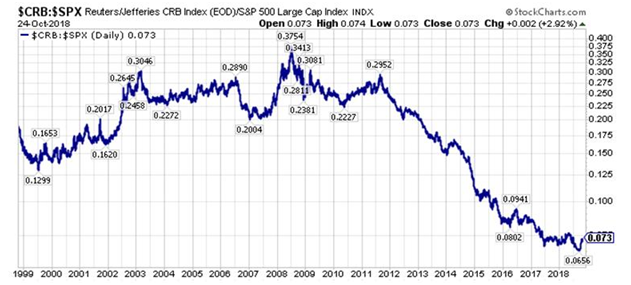 From my vantage point, I believe the opportunity in commodities, specifically commodity equities, is greater on a relative, and absolute basis. than it was in 1999/2000.
Meanwhile, real asset class return prospects for traditional equities and bonds have rarely looked worse in modern market history.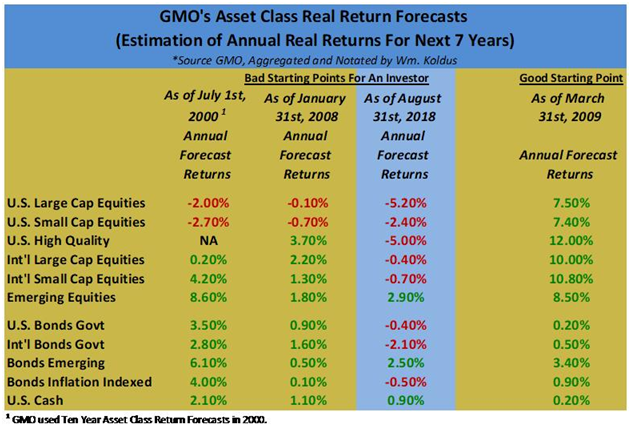 The very recent drop in U.S. equity prices has improved future real returns, however, this improvement is barely noticeable from a longer-term perspective, and it will take a much larger equity drop to improve future real returns meaningfully.
The discussion of where to invest is a lively topic at The Contrarian, which is my premium research service platform on Seeking Alpha.  I am biased, of course, but I think we have the best group of investors and traders anywhere, seasoned by nearly three years of commentary for some members, with many members actively contributing their unique perspectives to a robust Live Chat discussion on a daily basis, particularly when volatility surfaces.
Right now, we have an open free trial at The Contrarian, so if you have ever had an interest in test driving our group, now is a good time.
From my perspective, it would be worth taking a look, simply to view the Live Chat dialogue.
The price point of The Contrarian is a little steep, coming in as one of the more expensive services in SA's Marketplace.
Over the years, I have had quite a few requests for a lower-priced, more streamlined research product, and over the last several months, I have slowly put together a more traditional research newsletter.
To celebrate this official launch, which includes a deep-dive research report on what I believe is an extremely timely equity (delivered via email upon membership), I am offering a limited time $299 annual membership for the first 100 members.  To get this discounted price, simply use the coupon code "first100".
Ultimately, I think we are at a major inflection point in the financial markets, that has taken an extremely long time to develop.  Being different, being contrarian, has been extremely painful for a long time now, however, resilience and persistence, two necessary qualities for success in contrarian investing, in my opinion, are leading to what I believe is an upcoming golden age for active investors.
In the next several weeks, I am going to pick up my pace of writing on Seeking Alpha, as I believe we are in the heart of the opportunity.
Best of luck to everyone,
WTK
P.S. Send me a message with any questions about anything.
Disclosure: I am/we are short spy as a market hedge.
Additional disclosure: Every investor's situation is different. Positions can change at any time without warning. Please do your own due diligence and consult with your financial advisor, if you have one, before making any investment decisions. The author is not acting in an investment adviser capacity. The author's opinions expressed herein address only select aspects of potential investment in securities of the companies mentioned and cannot be a substitute for comprehensive investment analysis. The author recommends that potential and existing investors conduct thorough investment research of their own, including detailed review of the companies' SEC filings. Any opinions or estimates constitute the author's best judgment as of the date of publication, and are subject to change without notice.