(Travis's Note:  This article was originally authored on November 10th, 2018, and I am posting it here for the archives).
Natural gas prices have been in a nearly decade long bear market.
Natural gas equities have fared even worse.
Lower for longer was the prevailing mantra, but the nearly universal believe in lower for longer has potentially brought its demise.
Natural gas prices (UNG) had an incredible week, surging 13.3% to new multi-year highs, already eclipsing their 2017/2018 winter peak levels.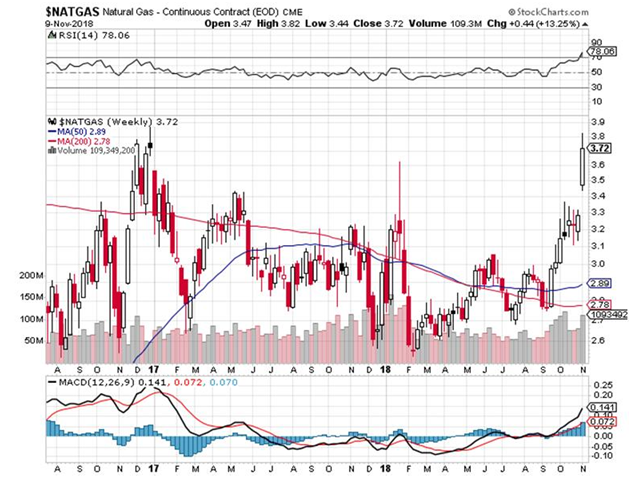 What is behind this surge in natural gas prices?
Simply put, structural demand drivers that were created by the universal belief in lower natural gas prices for longer have caused demand to exceed supply.
This has manifested itself in a natural gas inventory level that is below the five-year minimum.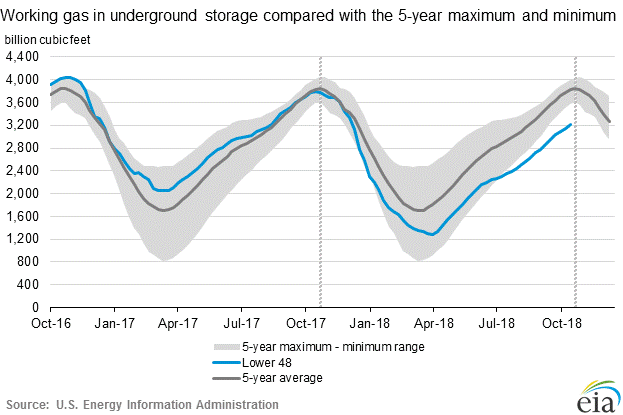 Natural gas bears have blamed the recent favorable weather for the price action in natural gas, but these same bears, who estimate that weather has drawn down inventories by an additional 300-500 BCF during calendar 2018, conveniently forget that the historically warm winters of 2015/2016 & 2016/2017 torpedoed a burgeoning bull market in natural gas, and natural gas equities, when there was a structural supply/demand deficit, by adding roughly 2,000 BCF in unused supply to storage across the two historically warm, back-to-back winters.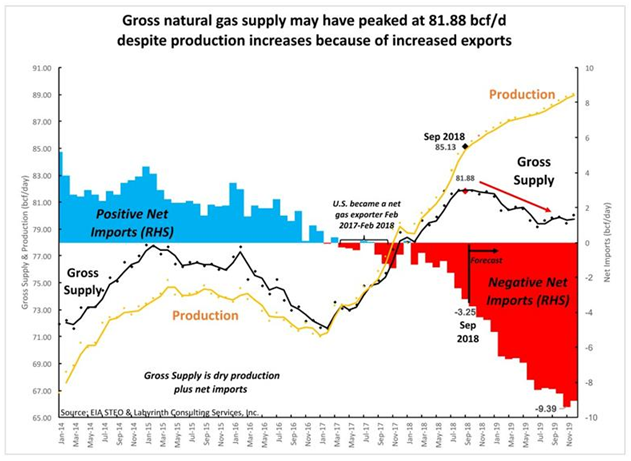 The pendulum swings both ways, though, and one extreme is about to lead to another, and everything that you think you know about natural gas is going to be challenged, absent another historically warm winter.
The nearly decade long bear market in natural gas prices has created a potentially very profitable opportunity in a select group of natural gas producers, which despite residing in perhaps the most prolific energy basin in the United States, and having more favorable fundamentals than their richly valued Permian cousins, remains undervalued and under-owned.
We have been evaluating this opportunity for several years at The Contrarian, with a series of exclusive articles.  Here is a sampling of these articles, just the headlines.
Natural Gas Bullish Thesis Continues To Play Out – 11/9/2018 Update
Natural Gas Bullish Thesis Continues To Play Out – 9/21/2018 Update
Natural Gas Bullish Thesis Continues To Play Out – 7/22/2018 Update
Natural Gas Has A Supply Problem – Part III – May 16th, 2018 Update
Natural Gas Has A Supply Problem – Part II – March 7th, 2018 Update
Natural Gas Has A Supply Problem – Part I – August 6th, 2017 Update
Appalachia Natural Gas Producer Valuations – March 10th, 2018 Update
Top Idea – A Diamond In The Rough – Southwestern Energy – May 21st, 2018 Deep-Dive Research Paper
To read these exclusive member articles, please consider a subscription to The Contrarian, where we now have a free two-week trial open.
I am biased, of course, but I think we have the best group of investors and traders anywhere, seasoned by nearly three years of experience together, positive and negative, and commentary for some members, with many members actively contributing their unique perspectives to a robust Live Chat discussion on a daily basis, particularly when volatility surfaces.
We are always looking for new members that can add profitable ideas, or challenge existing ones.
From my perspective, as I said in my blog posts the past three weeks, it would be worth taking a look, simply to view the Live Chat dialogue.
I do recognize that the price point of The Contrarian is a little steep, coming in as one of the more expensive services in SA's Marketplace.
Over the years, I have had quite a few requests for a lower-priced, more streamlined research product, and over the last several months, I have slowly put together a more traditional research newsletter.
To celebrate this official soft launch, which includes a deep-dive research report on what I believe is an extremely timely equity (delivered via email upon membership), I am offering a limited time $299 annual membership for the first 100 members. To get this discounted price, simply use the coupon code "first100". (WTK's Note: There are a few slots left remaining at this introductory price).
Ultimately, I think we are now at a major inflection point in the financial markets, highlighted by the price action in October of 2018, which has been ongoing in slow motion for three years, but which could suddenly accelerate. Being different, being contrarian, has been extremely painful for a long time now, however, resilience and persistence, two necessary qualities for success in contrarian investing and in life in general, in my opinion, are leading to what I believe is an upcoming golden age for active investors.
If you have any questions, send me a direct message at any time,
William "Travis" Koldus
Disclosure: I am/we are long the companies in the contrarian portfolios.
Additional disclosure: Every investor's situation is different. Positions can change at any time without warning. Please do your own due diligence and consult with your financial advisor, if you have one, before making any investment decisions. The author is not acting in an investment adviser capacity. The author's opinions expressed herein address only select aspects of potential investment in securities of the companies mentioned and cannot be a substitute for comprehensive investment analysis. The author recommends that potential and existing investors conduct thorough investment research of their own, including detailed review of the companies' SEC filings. Any opinions or estimates constitute the author's best judgment as of the date of publication, and are subject to change without notice.