(Travis's Note:  This article was originally published on May 14th, 2018, and is being republished on October 28th, 2018, to add to the archives).
The snapshot below shows my 7/18/2016 oil price forecast.
How it helped.
How it hurt.
One of my long-time members of The Contrarian, a friendly fellow from New Zealand, bookmarked my July 18th, 2016 oil price (USO) forecast, and posted it to our forum several days ago.  Here is the snapshot of the oil forecast below, with the forecast highlighted in yellow.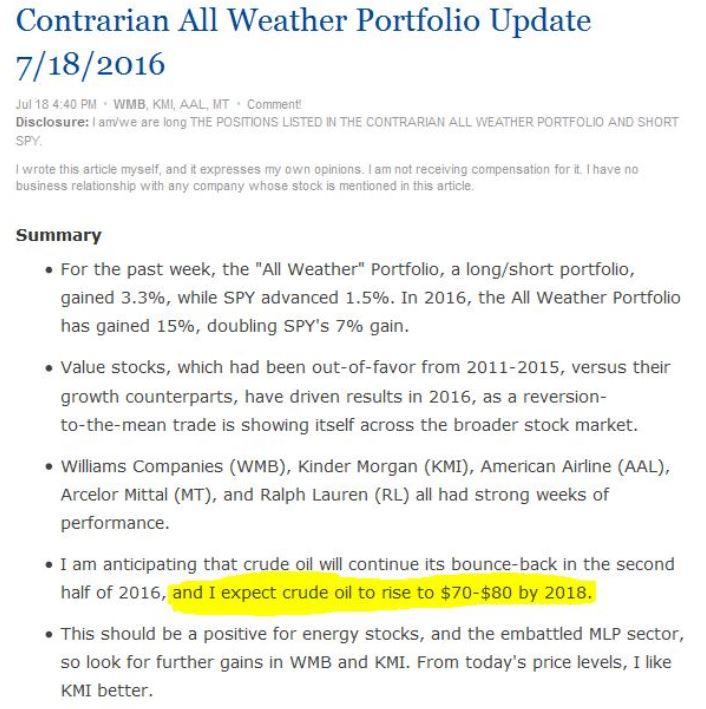 Ultimately, knowing the "macro", and getting it right, is usually helpful, however, in this case, it has been very painful, at least in the short-run.
Why is that?
Well, despite a near tripling of oil prices from their 2016 lows, there has been a dramatic divergence in energy equities (XOP), (XLE), (OIH), particularly the energy equities that should benefit the most from higher oil prices.
This has created a huge opportunity right now, IMO.
Hopefully, many can take advantage of this divergence, which is just starting to get resolved,
WTK
Disclosure: I am/we are long the positions in the contrarian portfolios.
Additional disclosure: Every investor's situation is different. Positions can change at any time without warning. Please do your own due diligence and consult with your financial advisor, if you have one, before making any investment decisions. The author is not acting in an investment adviser capacity. The author's opinions expressed herein address only select aspects of potential investment in securities of the companies mentioned and cannot be a substitute for comprehensive investment analysis. The author recommends that potential and existing investors conduct thorough investment research of their own, including detailed review of the companies' SEC filings. Any opinions or estimates constitute the author's best judgment as of the date of publication, and are subject to change without notice.