Passive index investing has dominated fund flows for a long time, accelerating over the past decade.
Once vaunted value investors have been left behind, as have a whole group of out-of-favor, forgotten equities.
The pendulum has swung too far to one extreme, and appears to be starting its move in the other direction, offering historic opportunity for forgotten equities.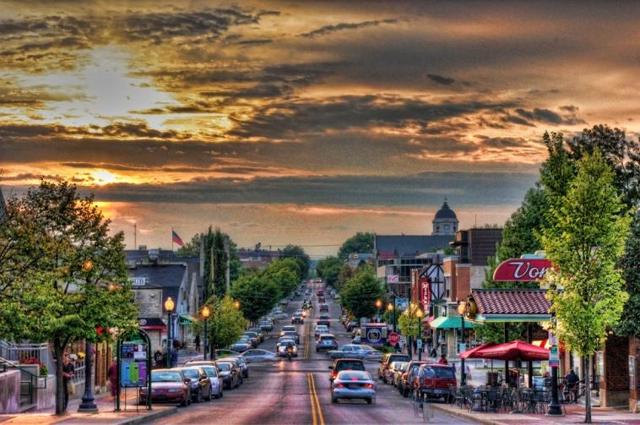 I grew up, and have spent almost all my life in the great state of Indiana, though I have traveled across the United States, and a little bit of the world (I want to travel more) in my career, and for pleasure.
Growing up in Northwest Indiana, which was really an extended connection to Chicago, referred affectionately to those from this area as "The Region" (I actually used to tell people that it was really like growing up on the South Side of Chicago, but true South Siders take offense to that), I went to college for undergrad studies at Ball State, in Muncie, Indiana, then moved to various suburbs around Indianapolis, working first in a suburb, then in downtown Indianapolis, then in a suburb again, before starting my own boutique investment research firm.
More recently, my life, which is a story on its own accord, for a book that would make interesting, perhaps even good reading, even for those not financially inclined, and my career to an extent, has taken me to various small towns across Indiana (and some of the bigger cities too…which outside of Indianapolis are really pretty small on a national scale, with the possible exception of Ft. Wayne), and even though I love geography, and enjoy driving, it is amazing to me the number of different small towns that I was unaware of, and stories behind them, which I am sure is true in a number of states, however, I have not traveled them nearly as much.
Many of these small towns, dotted in-between the never ending corn and soybean fields, which can be a beautiful backdrop driving, especially in the changing seasons, are forgotten by those in the bigger cities in Indiana, which really, again, there are not many of, let alone on a national scale.  Summarizing, I have spent virtually my whole life in Indiana, and I come across new towns and places on a regular occasion, with their own interesting backstory and history.
Building on the narrative, even though Indiana is home to a number of Fortune 500 companies, including Eli Lilly (LLY), Cummins (CMI), Steel Dynamics (STLD), Zimmer Biomet Holdings (ZBH), Berry Global Group (BERY), which honestly I had not heard of before today and I have spent my past 25 years actively research and investing, and Simon Property Group (SPG), and a number of S&P 500 Index (SPY) companies have significant operations located in Indiana, which is a list too big to show in its entirety, including somewhat surprisingly Salesforce.com (CRM), on this note Indianapolis is also a finalist for Amazon's (AMZN) second headquarters search, and a number of global industry leading companies have significant operations in Indiana including ArcelorMittal (MT), and Roche Holding Ltd (OTCQX:RHHBY), (OTCQX:RHHBF), Indiana is an overlooked state, in my opinion, on a national profile.
Sure, we in Indiana have globally recognized institutions with significant fan followings, including Notre Dame football in South Bend, Indiana basketball in Bloomington (though they have been in a down cycle, they are still a sleeping giant with a level of national success that only a few other programs can match), heck even the much maligned NCAA headquarters is located in Indianapolis.
The college programs and towns in Indiana are terrific from Purdue in West Lafayette, to Indiana University in Bloomington, to Notre Dame in South Bend, to Butler and IUPUI, both in Indianapolis, to Indiana State in Terre Haute, and Rose-Hulman Institute of Technology in Terre Haute (Rose-Hulman, which I go to on a regular basis, and Purdue are two of the finest engineering schools in the country), and right on down through the smaller colleges such as the University of Indianapolis, DePauw University in Greencastle, Indiana, (the only time I ever ran of gas driving, which occurred recently, was near Greencastle, where a nice man, resembling a younger version of my deceased for seven year father, and having his same first name, picked me up and helped me on my way), and Wabash College in Crawfordsville, Indiana.
Speaking of my deceased father, who I wrote about more here, we used to travel the state together for a couple reasons.  First, he was an athletic director, and coached a bunch of sports, so by default their was regional and statewide traveling.  Second, we both loved Indiana high school basketball, particularly before the winner-take-all tournament was changed, and third, my dad had a love for track-and-field, which he coached at the high school level too, and followed with interest around the state.
Interestingly, the professional sports teams in Indiana, including the Indiana Pacers, which I had tickets too for some time, including when they collided with the Miami Heat team four consecutive finals team, led by LeBron James and Dwyane Wade, and the Indianapolis Colts, probably have less state and national followings that Notre Dame football or Indiana basketball.
In summary, Indiana offers a rich fabric of nationally recognized colleges, and internationally recognized companies, yet while parts of Indiana thrive, there has certainly been a number of small towns, companies, and industries that have been left behind.
On this note, both of my parents were raised in Gary, Indiana, which was once, long ago, one of the most thriving cities in America, yet today, the southern Lake Michigan industrial coast line, from East Chicago to Hammond to Gary, is a shell of its former glory.
Companies, like U.S. Steel (X), who has significant operations in Northwest Indiana, and which I feel is one of the more undervalued equities in the market today, and Cleveland-Cliffs (CLF), another Great Lakes dominant business, which I believe is materially undervalued, went through a long dry spell, as the industrialized heartland of the United States saw production outsourced to cheaper locales, led by China and Mexico.
Jobs were cut, and industrial production centers centered in the Midwestern United States lost their place in the global supply chains.
Even though the fortunes of many of these companies have been revitalized since commodity prices bottomed early in 2016 (alongside a bottom in global growth), followed by a bottom in sovereign bond yields (with a corresponding  top in bond prices), the broader U.S. equity market, which has been dominated by a handful of winning companies, and winning sectors since the current bull market began in March of 2009, has overlooked a small, but significant group of companies, overrun by the passive flow driven rally.
Additionally, many stock markets outside the United States, and associated targeted companies have been left behind too, as global capital fund flows have been recycled to the United States this past decade, driving up the U.S. Dollar Index, and combining with domestic fund flows to passive and ETF passive strategies, to narrow the global equity bull market, led by U.S. equities, to a significantly smaller group of winning companies that one would expect, given the magnitude of the equity rally.
Collectively, the left behind companies and their associated equities, both domestically, and internationally, where there is a greater number of these mis-priced companies, in my opinion, are the forgotten companies.
This is a term, the forgotten companies, that I am going to use over-and-over in the next several weeks and months, to describe the group of undervalued companies that offer rare opportunity, in their equity prices.
For a first-look at the forgotten companies that I will be covering in-depth, and have been covering in-depth, please consider joining The Contrarian, which is my premium research service platform on Seeking Alpha.
I am biased, of course, but I think we have the best group of investors and traders anywhere, seasoned by nearly three years of experience together, positive and negative, and commentary for some members, with many members actively contributing their unique perspectives to a robust Live Chat discussion on a daily basis, particularly when volatility surfaces.
Right now, we have an open free trial at The Contrarian, so if you have ever had an interest in test driving our group, now is a good time.
From my perspective, as I said in my blog posts the past week, it would be worth taking a look, simply to view the Live Chat dialogue.
The price point of The Contrarian is a little steep, coming in as one of the more expensive services in SA's Marketplace.
Over the years, I have had quite a few requests for a lower-priced, more streamlined research product, and over the last several months, I have slowly put together a more traditional research newsletter.
Ultimately, I think we are now at a major inflection point in the financial markets, which has been ongoing in slow motion for three years, but which could suddenly accelerate. Being different, being contrarian, has been extremely painful for a long time now, however, resilience and persistence, two necessary qualities for success in contrarian investing, in my opinion, are leading to what I believe is an upcoming golden age for active investors.
Disclosure: I am/we are long CLF, MT, X, and short SPY as a market hedge.
Additional disclosure: Every investor's situation is different. Positions can change at any time without warning. Please do your own due diligence and consult with your financial advisor, if you have one, before making any investment decisions. The author is not acting in an investment adviser capacity. The author's opinions expressed herein address only select aspects of potential investment in securities of the companies mentioned and cannot be a substitute for comprehensive investment analysis. The author recommends that potential and existing investors conduct thorough investment research of their own, including detailed review of the companies' SEC filings. Any opinions or estimates constitute the author's best judgment as of the date of publication, and are subject to change without notice.